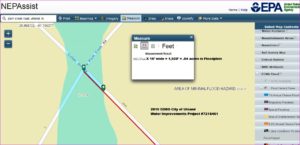 This is to give notice that the City of Uhland has determined that the following proposed action under the Texas Department of Agriculture Community Development Program, Contract Number 7216461, is partially located in the 100-year floodplain. The City will be identifying and evaluating practicable alternatives to locating the action in the floodplain and the potential impacts on the floodplain from the proposed action, as required by Executive Order 11988, in accordance with HUD regulations at 24 CFR 55.20 Subpart C Procedures for Making Determinations on Floodplain Management.
Project Description: The City, in conjunction with County Line Special Utility District, will ensure the city's residents of a reliable and constant potable water service at adequate pressures and flow rates. Construction will include the installation of 4,000 l.f. of 12" water line, 3 fire hydrants, 8 gate valves, 15 customer transfers and associated appurtenances. Approximately 0.04 acres of the project activities are located in Zone A of the 100-year floodplain on Cotton Gin Road at Plum Creek Road. This acreage is already geographically located in the floodplain. There will be no adverse effect on the floodplain. There are no practical alternatives.
The proposed project is located on Cotton Gin Road, from Hwy 21 to Plum Creek Road, Uhland, Hays County, TX 78640.
There are three primary purposes for this notice. First, people who may be affected by activities in floodplains and those who have an interest in the protection of the natural environment should be given an opportunity to express their concerns and provide information about these areas. Commenters are encouraged to offer alternative sites outside of the floodplain, alternative methods to serve the same project purpose, and methods to minimize and mitigate impacts. Second, an adequate public notice program can be an important public educational tool. The dissemination of information and request for public comment about floodplains can facilitate and enhance Federal efforts to reduce the risks and impacts associated with the occupancy and modification of these special areas. Third, as a matter of fairness, when the Federal government determines it will participate in actions taking place in floodplains, it must inform those who may be put at greater or continued risk.
Written comments must be received by the City of Uhland at the following address on or before 1/2/17:
City of Uhland, 15 N. Old Spanish Trail, Uhland, TX 78640, Attention: Vicki Hunter, Mayor Pro-Tem.
Date: 12/18/16
Para más información en español, comuníquese con Karen Gallaher al (512) 398-7399.